Tools
By Melissa Gena
Pivotal Tracker is a pretty popular cloud tool for managing agile product development, and while there are many things I like about it, I have also been messing around with Sprint.ly since I heard the CEO, Joe Stump, speak at a product management event a few months ago.
continued: Compare and Contrast: Sprintly and Pivotal Tracker
Read more: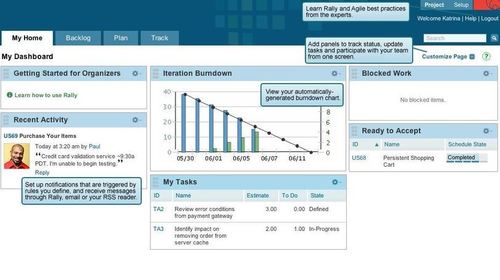 StartUP Product's insight:
Article reviews results of Forrester 2012 Report on Application LifeCycle Management Tools
"nine of the most common software platforms for product development and application lifecycle management against 116 criteria"
However, the title says "Best Product Management Tools for Developers"
Sorely missing from this list are tools built by developers and product managers specifically to solve their pains not being resolved elsewhere AND conducive to running lean:
https://sprint.ly/ Don't ask how projects are going. Watch how they're going in real-time.
Prodpad.com Product Management Software for your Entire Team
https://rizzoma.com/ Group collaboration – manage communications, roadmap, easily view as mindmap, manage levels of interactions & views, automates email communications and team management (delivers on the promise of Google Wave for distributed team collaboration)
GetMilemarker.com – capture ideas, prioritize features, easily portray roadmap & view status to completion with dates/times
Kanban2go.com – visual online task management software
See on blog.profitbricks.com
Learn about A Product management best practice and A Tool for better product management
Startup Product Talks: April 10 @Atlassian, San Francisco

Learn how Atlassian uses their own tools in house through a best practice called dogfooding with Jerry Gordinier, cross-product UX Designer at Atlassian
AND
Discover ProdPad, a tool for better product management, developed by Simon Cast, co-founder visiting from the UK
Best Practice:
Why get started with dogfooding?
Is using your products enough?
Something's broken… what do I do?
This talk will cover the ins and outs of effective dogfooding:
why using your products is more than best practice,

clever tips and tricks to encourage feedback at the organizational and personal level, and

how to receive and act on what your internal users are saying.
Take away some pro-tips for integrating effective dogfooding from our experience at Atlassian.
Jerry Gordinier is a cross-product user experience designer with Atlassian, maker of enterprise team collaboration and software development products including JIRA, Confluence and Bitbucket.
Jerry's web start-up work includes taiwanenglish.com,penpalroulette.com, and the ill-fated Partybot9000. He is passionate about user-centered design and research, and making products that change the world for the better.
Product Demo: ProdPad
Simon Cast, Co-founder of ProdPad, and visiting from the UK, will give us a demo. He's also cofounder of the European Product Group who run ProductTank, ProductCamp London and the product management conference MindTheProduct. You can read his blogging at MindTheProduct.com & ProdPad.com. Simon began his career in Space Engineering, where he developed a Fortran realtime program to automate satellite operations. He then traveled around the world before a stint in the Australian Army.
more info:
http://www.meetup.com/StartupProductTalks/events/82946542/